Beef Mechado is one of my favorite beef dishes.
When I was still working in Manila (in the previous job I held before I left for the UAE more than a year ago), I used to rent a small room in a three-storey apartment in Quezon City near SM North Edsa where I stayed for more than 4 years. My landlady in that house, who I fondly call
Nanay
, makes the best beef mechado. I once asked her what's the secret and she gladly shared that she is using fresh tomatoes instead of canned or processed tomatoes for the sauce.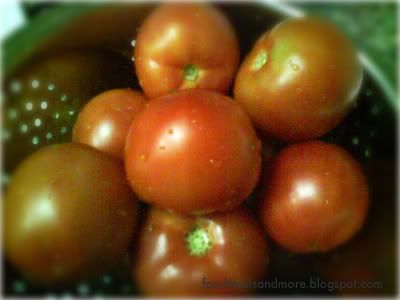 Fresh Tomatoes
Remembering the cooking tip from
Nanay
, I daringly prepared beef mechado skipping the traditional tomato paste or tomato sauce.
Here's the recipe for beef mechado.
Ingredients:
1 kilo beef cut into chunks
2 medium sized carrots, sliced in 1/2" sections
3 medium potatoes, quartered (optional: fried)
8-10 pieces large tomatoes, sliced or chopped (or 2 cups tomato sauce or 1/2 cup tomato paste)
4 onions, peeled and quartered
1 large bell pepper, sliced
2 cups beef stock or 2 bouillon cubes dissolved in water
3 bay leaves (laurel leaves)
1/4 -cup vinegar
1 cup soy sauce
salt & pepper to taste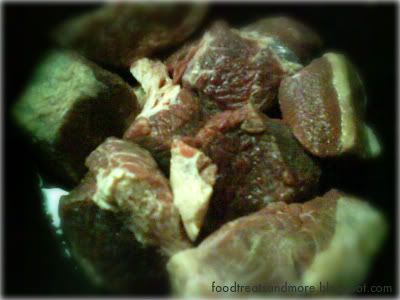 Beef Chunks
Cooking Instructions:
1. Combine the beef, tomatoes, soy sauce, bay leaves and beef stock in a casserole. Bring to a boil and simmer until the beef is almost tender.
2. Add the vinegar and let boil for two minutes.
3. Add the potatoes, carrots, onions and bell pepper. Add in salt (if needed) and pepper to taste.
4. Let simmer until all vegetables are cooked. Stir occasionally to thicken the sauce.
Cooking Tips:
1. Choose beef cuts intended for stewing or containing various amount of fat layers.
2. Consider pressure cooking the beef with the beef stock for faster cooking time.
3. Fry the potatoes before adding to the casserole. Aside from giving it a nice taste, it will also reduce cooking time for the potatoes.
4. Stir in 2 to 3 tablespoons of olive oil when the mechado dish is almost done for added flavor.
Beef Mechado
Preparation and cooking time: 1 to 1.5 hours (estimated)
Serving Size: 4-5 persons
Bon Appetit!