Probably, my blog have felt lonely and abandoned again after several weeks of not posting. Blame it to our accommodation shifting and partying. It is true in a way because after we moved to our new place, which we haven't fully adjusted to, we attended birthday parties for two weekends in succession. We haven't been cooking a lot these days, we are eating out yes but I wasn't in the mood to blog about them because we haven't completely recovered yet from the "shifting" stress. But, I couldn't skip this one restaurant we went to that turned me to an instant fan of their vegetarian pizza.
Briccocafe bears the slogan "the real Italian taste". I couldn't confirm that because I have never been to Italy to experience the authentic taste of Italian food, but what I can tell is that we would definitely go back to Briccocafe.
The branch we went to is in Khalidiya Mall at the food court level. The resto's design is a combination of relax and on-the-go atmosphere. My reason for saying this is because half of the restaurant's area is exposed to the hustling and bustling of the food court environment and the other half is at the back of the kitchen and food counter enclosure and within the mall's wall façade.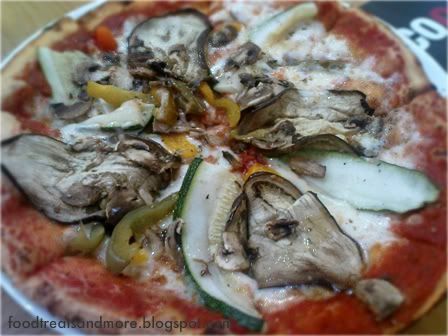 Verdure Pizza at Briccocafe

Now let me go back to my instantly favourite vegetarian pizza called Verdure on the menu. Being our first time to visit the resto, we did what we usually do and that is to ask our friendly server to suggest their bestsellers on the menu. The Verdure was one of the two main courses we ordered upon our server's suggestion and I couldn't thank her enough because I liked what we ordered so much. The Verdure pizza was quite light to eat and very much tasty! What's it made of is a thin crust pizza topped with thinly sliced eggplant, zucchini, bell peppers, mushrooms and tomato sauce. The toppings were melting in my mouth and I couldn't contain myself from eating half of the pizza when usually I can only consume 1 or 2 slices. The pizza dough wasn't greasy at all unlike most of what I've tasted so far. It was really a delight to eat. You can taste the freshness of the dough as it is being freshly prepared in the resto. When it comes to the price, I must say it is reasonable considering the quality of the pizza.
With such good food like this, I would darely say that as a fish and meat lover, it wouldn't be worrisome if I convert as a vegetarian. Hmm, what a pleasant thought, but nah, I still love fish and meat!