Pinakbet is a popular dish in the northern region of the Philippines, Ilocos. It has become famous in other regions as well and each has its own version be it in the choice of vegetables, seasoning or meat.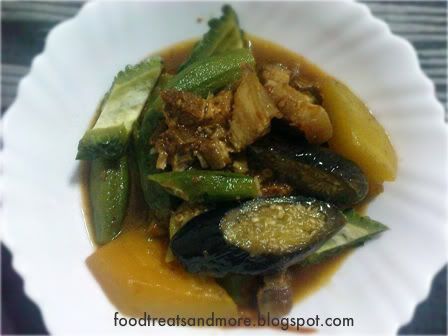 Pinakbet with Pork Recipe

This pinakbet with pork recipe is a kapampangan recipe which I inherited from my mother. I'm really glad to be able to cook this dish because it is one of my most favorite home cooked foods back home. Other versions of pinakbet recipes uses shrimps (which is the original Ilocano recipe) and fried/grilled fish. Both are delightful in their own distinct flavors. I've used pork in this recipe because of its unique flavor that goes really well with the veggies, especially when the pork is slightly crispy-fried.
Read More
Here are the ingredients for my Pinakbet with Pork recipe:
¼ kilo pork belly, cut into small pieces
½ kilo squash, cut one inch square
2 pieces medium-size eggplants, sliced ½ inch thick diagonally
1 piece bitter gourd or ampalaya, seeded and sliced ½ inch thick
10 pieces okra, removed ends and cut in two
3 pieces large tomatoes, roughly sliced
½ head garlic, crushed or minced
1 piece large onion, sliced
4 tablespoons bagoongisda or alamang (shrimp paste)
1-2 cups water
3 tablespoons canola oil
Salt to taste (if needed)
Cooking Procedure:
1. In a large cooking pan, boil pork belly in 1/2 cup water until water evaporates. This process will make the pork tender.
2. As soon as the pork starts to sizzle, add canola oil to help the pork cook fast and crispy.
3. When the pork reaches the desired crispy state, remove from the pan and set aside.
4. In the same pan, remove excess fat, sauté garlic and onion until translucent. .
5. Sauté tomatoes. Cook until the skins have wilted.
6. Add in pork and squash. Cover and simmer for 5 minutes stirring occasionally.
7. Add bagoong or alamang. Cook for a couple of minutes.
8. Add all remaining ingredients.
9. Cover and simmer for another 5 minutes. Be careful not to overcook the vegetables.
10. Serve with steamed rice!