We love watching cooking shows. This linguini with clams recipe is inspired by many pasta recipes we've watched in different shows. As I previously mentioned in my
Clam Soup Recipe
, clams are in season here and it's a good thing to take advantage of its abundance because for sure they're fresh.
There is actually nothing exactly like this recipe because I tweaked it a little, like instead of using parsley for the herb I used fresh basil leaves, which I and hubby are both crazy about. In addition, most pasta with clams recipe I've seen are using white wine for the sauce. I intended to skip the white wine, instead I planned to replace it with vegetable cubes to turn it into a broth but we couldn't find any veggie cube so I settled for the pasta water for the sauce.
I may say my linguini with clams recipe is a success. Hubby enjoyed it so much and I would definitely love to prepare it again in the future.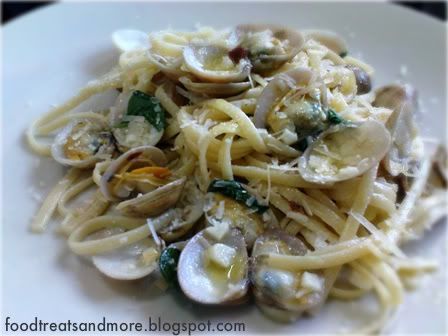 Linguini with Clams
Here's is my linguini with clams recipe:
Ingredients:
1 kg clams
500 g linguini pasta
½ bulb garlic, minced
1 small onion, finely chopped
1 handful fresh basil leaves
100 g parmesan cheese, grated
1 pinch dried chili flakes
olive oil
Cooking Procedure:
1) Clean clams well and soak in water for at least 2 hours. Replace the water every half hour. Throw away clams that have opened.
2) Cook pasta according to instructions. Linguini will be cooked al dente in boiling water with a teaspoon of salt for 10-11 minutes. Drain pasta and sprinkle with olive oil then set aside.
3) Meanwhile, heat olive oil in a skillet.
4) Sauté garlic, do not brown.
5) Sauté onion until translucent.
6) Add in clams and half cup of pasta water.
7) Cover and simmer for 5 minutes or until most of the clams have opened.
8) Add basil leaves and dried chili flakes. Stir well.
9) Turn off the heat. Add the cooked pasta and parmesan cheese in the same skillet and combine well with the sauce.
10) Serve hot. Sprinkle with dried chili flakes, grated parmesan cheese and olive oil if desired.