Sinigang is a common dish for Filipinos. It is a soup characterized by its sour flavor. Different fruits can be used as souring agent such as tamarind (which is the most common), guava, green mango, kamias or bilimbi and santol. Back home, my most favorite fruit ingredient for sinigang is kamias or bilimbi, next is tamarind. We have a kamias tree in the backyard that bears fruits abundantly when in season. I hope it is still alive up to this day. That's one of the things I would check when we go home this December for vacation.
Nowadays, powdered soup base or cubes have become popular in place of the natural fruits, especially for OFWs like us. They are commonly known as sinigang mix and are made of tamarind or guava. The tamarind powdered soup base is what I used for my sinigang na tilapia recipe. I usually like my sinigang to be really sour. Fortunately, hubby likes the same and so I used the whole sinigang mix pack.
It is best to add an assortment of vegetables to sinigang. I used pechay and banana blossom for this recipe. I learned from my mother that the banana blossom will make the soup white in color. Just be careful on the timing of slicing the banana blossom. I suggest slicing it seconds before it is added in the stew. Slicing it early will darken the color of the banana blossom.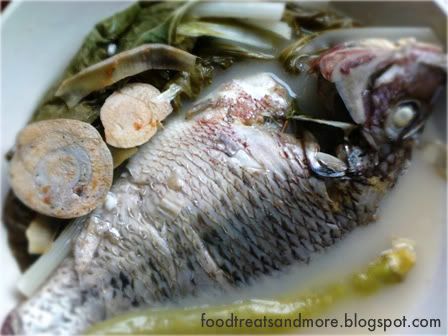 Sinigang na Tilapia

Here's my recipe for the Sinigang na Tilapia:
Ingredients:
2 pcs whole tilapia fish
1 bunch pechay
1 pc banana blossom, sliced to ½ inch thick, remove tough petals
2 pcs tomatoes, quartered
1 thumb-sized ginger, sliced thinly
1 onion, sliced
2 pcs banana chili
1 pack sinigang mix (use only half if you prefer less sour soup)
2 cups water
Salt
Cooking Procedure:
Bring to boil 2 cups of water. Add tomatoes and onion. Simmer until the tomatoes and onions are tender. Add sinigang mix and ginger. Cook until sinigang mix has completely dissolved. Add tilapia and vegetable ingredients. Season with salt. Cook until tilapia is done. Adjust the seasoning according to your taste.