This stir-fry squid with broccoli recipe is supposed to duplicate the Chinese recipe I researched on the Internet. Unfortunately, we do not have rice wine on our shelf as we are not using such ingredient in our cooking. Rice wine is one of the required seasoning for this recipe. We were a bit lazy to go to the supermarket to buy one at the time. Nonetheless, having missed out one of the ingredients did not stop me from cooking this delectable dish. I replaced the rice wine with water and added cornstarch to thicken the sauce. The result was a delicious seafood-vegetable dish that is perfect for steamed rice.
So far I cannot tell the difference in taste if I had use rice wine, but I would love to test it in future. I'd like to point out though that the water is not a substitute for the rice wine in terms of taste, instead it was intended to replace the sauce that could have been produced by the rice wine.
Meanwhile, here is my recipe for the Stir-fry Squid with Broccoli.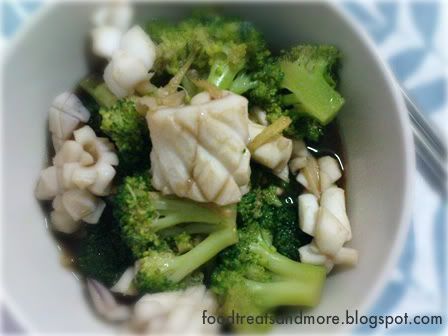 Squid with Broccoli
Ingredients:
500 g squid, fresh
500 g broccoli, cut into small florets
3 cloves garlic, minced
1 thumb-size ginger, finely sliced
1/3 cup soy sauce
1 teaspoon sugar
2 teaspoons cornstarch
100ml water (as needed)
Cooking oil
Cooking Procedure:
1. Clean fresh squid. Remove ink and peel the skin. Score lightly on one side and slice to bite-size pieces.
2. Heat oil in a pan. Sauté ginger and garlic. Be careful not to burn the garlic.
3. Add soy sauce and sugar together.
4. Stir-fry the broccoli florets in the mixture for 2minutes over high heat.
5. Add water and cornstarch. Let it simmer for 2 minutes.
6. Add squid and cook for 3-5 minutes, stirring constantly.
7. Do not overcook the squid as it will turn out to be gummy.
8. Serve hot with steamed rice.