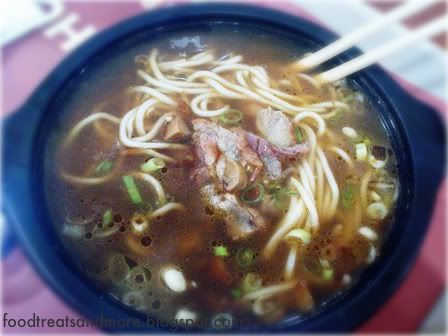 Dan Dan Mian
It is our first time to have Dan Dan Noodles and what a treat, it tasted real good! I'm not sure if others would share the same sentiment, but it has instantly become one of my favorite noodle dishes. (Be warned though that it is really spicy, even without the sliced chili that they usually top it with. )
Dan dan noodles or Sichuan Spicy Noodles is a Chinese classic dish of Szechuan or Sichuan Cuisine. According to Wikipedia, it usually consists of a spicy sauce containing preserved vegetables, chili oil, Sichuan pepper, pork, and scallions served over noodles.
What we had last night was a slight variation of the usual dan dan noodles. It is one of the two Kung Fu Noodles selections on the Noodle Hut's menu. Btw, the Noodle Hut is located at the food court of Khalidiya Mall, which just opened a couple of months back. Yesterday was our second sampling of their dishes. The charming lady at the counter recommended that we try dan dan noodles and said that it is one of their best tasting noodles, and she did not fail us.
Going back to what I was saying, the difference of the dan dan noodles on the Noodle Hut's menu from the usual that was described on Wikipedia was the roasted duck. I couldn't compare at the moment which one is better, pork or duck. I only hope that I could also taste the pork version in the future.
Smitten by it, I did a little research for the recipe, which I hope to prepare in the future. Meanwhile the recipe links below would serve as a record to check out with when I finally gain the courage to prepare it.
The links also discussed a few facts and history of this Spicy Sichuan Noodles. Most of these recipes are dry version, the nearest to what we had was the one from Chinesefoodfans.com.