One quick and easy recipe to make is Broccoli in Oyster Sauce. It involves a simple cooking method of stir-frying garlic, broccoli and oyster sauce. In less than no time your meal is ready. Other kinds of vegetable can be cooked this way also, like zucchini, cauliflower, cabbage, snow peas, carrots, etc. Two or more kinds of vegetables can also be combined to create this delectable and nutritious recipe, just like my
3-Kind Vegetable Stir-Fry recipe
.
I often prepare this dish to pair it with anything fried or pan-roasted. Aside from being simple to prepare, it is rich with nutritional and health values. Research says that broccoli is rich in vitamins C, A and K, as well as dietary fiber. Broccoli also has anti-cancer properties.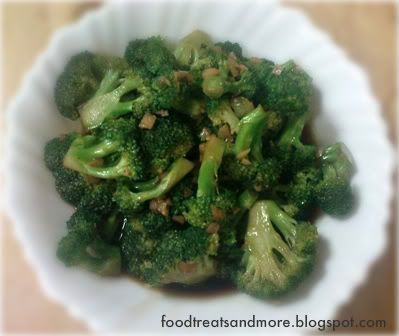 Broccoli in Oyster Sauce
Here is my Broccoli in Oyster Sauce Recipe.
Ingredients:
500 grams Broccoli, cut into small florets
2-3 cloves garlic, minced
5 tablespoons oyster sauce (add more if desired)
¼ cup water or broth
Salt and pepper to taste
Cooking oil
Cooking Procedure:
1) Heat oil in a deep pan (or wok if you have any).
2) Sauté minced garlic. Do not brown.
3) Add oyster sauce and cook for under a minute.
4) Add in broccoli florets and stir-fry in 3-5 minutes over a high heat.
5) The water or broth should be added within the first 2 minutes of stir-frying the broccoli florets.
6) Season with salt and pepper to taste.
7) Serve with steamed rice and your favorite fried or pan-roasted meat or fish.
This recipe serves 3-4 persons.
Broccoli is quick to cook. And, to know when to remove it from heat is when it turns to bright green in color.
Try this recipe and you'll surely enjoy it!