A lot of parents find it difficult to make their children eat vegetables, but when I was a little kid I never gave my parents a hard time because I would always eat and finish my vegetables. Until today, I am still a veggie lover (but not a vegetarian). I would always like to have dishes with vegetables on it when dining out or make sure to incorporate vegetable servings in our weekly menu plan.
Two nights ago I prepared a dish that's delicious and very simple to make, which involved vegetables and oyster sauce. I call it 3-Kind Vegetable Stir-Fry in Oyster Sauce. As the title suggests, I only used three types of vegetables namely: carrots, snow peas and white cabbage. Other types of vegetables can also be used like cauliflower, broccoli, zucchini, bell peppers, etc. But, I stick to the three previously mentioned as I'd like to have a quickly prepared meal and within budget.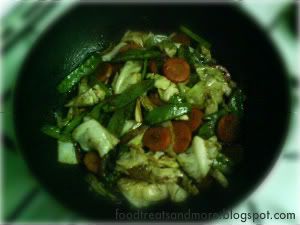 Stir-fry vegetable is always present in any Chinese restaurant menu but I cannot tell if it is solely a Chinese creation because I've seen the same dish exists in Thai cuisine. There is also a similar dish popular in Filipino cooking, which we adopted from Chinese, called chop suey.
Here's the recipe for my 3-Kind Vegetable Stir-Fry in Oyster Sauce. You will like this because it is light and, as I mentioned, very simple to prepare.
Ingredients:
2 medium-sized carrots, sliced crosswise
100 grams snow peas (remove tips)
½ head cabbage, roughly sliced
½ cup oyster sauce
1 medium-sized onion, sliced
3 cloves garlic, minced
Spring onions (optional)
¼ cup water (optional)
Vegetable oil
Cooking Instructions:
1. Heat oil in a wok. Sauté garlic and onion.
2. Add carrots and sauté for about 2 minutes.
3. Add oyster sauce and then follow with snow peas and cabbage. Add water if you desire. Add spring onions (optional). Stir constantly until all vegetables are cooked (bright in color). Do not over cook vegetables to maintain crispness.
Preparation and cooking time: 20-25 minutes
Serving size: 2-3 persons
Useful Info:
1. Stir-fry meals are best done using a wok over a high heat.
2. Constant stirring will allow equal distribution of the heat to vegetables and prevent over cooking.