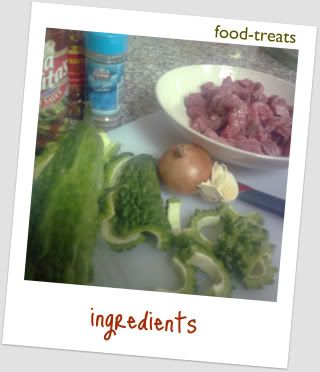 This recipe is a surprise treat for beef fanatics. The bitter taste of ampalaya or bitter gourd and the sweetness of oyster sauce make this dish exciting. Boq and I are ampalaya lovers, whatever way it is cooked (e.g., just boiled whole) we would finish it off.
Ingredients:
300g beef strips, fresh and clean

½ kilo ampalaya or bitter gourd that's about 2 to 3 pieces

medium-size, cored and sliced to about half an inch

1 medium-sized onion, sliced

3 cloves garlic, crushed

6-8 tbsp. oyster sauce (adjust according to your taste)

dash of salt

vegetable oil

Cooking Instruction:
Heat oil in a wok or pot. Sauté garlic until light brown. Follow with onion and cooked until translucent. Stir fry beef strips together with garlic and onion. Add in oyster sauce, stir then cover for 5 minutes. Add ampalaya slices. Stir occassionaly until cooked.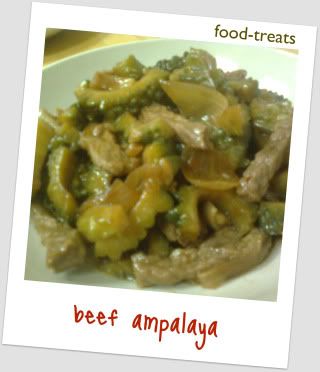 You may want to add a dash of salt depending on your taste.
This dish makes 4-5 servings and is a great pair for steamed rice.

Preparation and cooking time: 30 minutes

Useful Info:
1) Do not overcook the beef to achieve its tender state.
2) To reduce the bitterness of ampalaya or bitter gourd, shake it with salt then wash with running water.

Did you know? Ampalaya has medicinal properties. Aside from its ability to lower blood glucose level, reports show that it can lower fat in our blood and makes us resistant to both viral and bacterial infections. Not only that, amplaya can help us protect from developing cancer as it enhances our immune system. Wow, that's a lot of medicinal benefits from this modest vegetable.