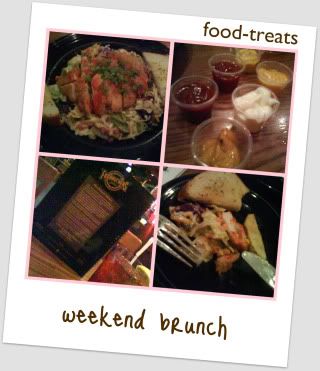 Yesterday was a special day for me and Boq. We planned to eat out for lunch (brunch actually) after hearing Friday Mass. I was craving for burger and fries but a fast food joint wasn't appropriate for the occasion, so we decided to dine in Fuddruckers at Marina Mall.
After several minutes of checking out the menu, we ordered two dishes that we thought were worth to try – Specialty Burger with beef bacon and cheddar cheese (I was craving for burger & fries, remember? :) ) and Buffalo Chicken Salad.
The salad was served first on a black-colored ceramic plate with crispy chicken mixed with cheese, lettuce, snow and violet-colored cabbage, fine strips of carrots, tossed with ranch dressing and topped with franks buffalo sauce. (Wow, I did remember all the ingredients!) I wasn't sure at the time we were ordering the salad how the buffalo sauce tastes. Maybe I was ignorant but the sauce sounded strange to me, a skeptic that I am about tastes of strange sounding food I managed to oblige to try the salad with Boq's suggestion. It turned out to be a little salty and sour and nothing strange.
Next came the Specialty Burger open top with wedges of fried potatoes (too bad the photo I took was corrupted!). The fun part with the burger was that you are made to decide what other toppings you want to add in it. The resto had a side bar of fresh produce of different cuts and a variety of dips (mayonnaise, mustard, jalapeno cheese, bbq, ketchup, etc.), which is free for all burger combo orders.
I'd say the food was great (but not exceptional). I was full at the end of the meal and so was Boq.
Did you know?
Hamburger was originally termed "hamburg steak?" The term was coined by the Germans after Hamburg City, origin of the German immigrants who brought the dish to the US in the 19th century and it was in the US that the raw chopped piece of beef evolved to a luscious patty sandwiched in a bun.
Would you consider taking brunch hamburger treat for a special occasion too?