It was more than three weeks now since Boq, I and two of our friends, Randy and Raquel, went to dine in at Chili's. The two were my former officemates. We really bonded well together with our other Filipino co-workers in our previous company in Dubai and have maintained the friendship even when we left the company. Since they are now also based here in Abu Dhabi like me, we get together once in a while. Three Fridays ago was one of our get together moments.
Why Chili's?
A week before the said occasion, our other friends from Dubai, Amy and Levi, introduced to us the fajita quesadillas served in Chili's (Dubai Mall branch) during our visit to Dubai with Clifford. I was still full at that time so I could not enjoy the meal. I suggested to Boq that we try it again. I also liked the restaurant's idea of serving bottomless tostada chips. It is common to find bottomless beverage on a restaurant's menu but not on appetizers.
The Restaurant
Whether you are a frequent guest, a first timer or a passerby, you would immediately notice that big red chili pepper hanging from the ceiling of any Chili's Grill and bar. That's the restaurant's appropriate "symbolic figure."
The Chili's branch we went to was in Mariah Mall located at the rightmost corner of the ground level. The mall is situated in the busy intersection of 6th and Hamdan streets. The look of the restaurant is more or less similar to other Chili's branch I visited, specifically the high industrial type ceiling and the colorful mosaic tiled tables.
One thing I like about Chili's is its informal ambiance. You don't have to worry if you are dressed to kill or on your simple shirt and jeans only, or whether it is allowed to laugh out loud without being stared at by other guests. It's simply fun and unpretentious.
The Food
Boq and I arrived at Chili's a little early than scheduled but the restaurant was already busy then because our timing coincided with Iftar. We were made to wait for a while to be seated.
Once seated and while waiting for our friends to arrive, we ordered our drinks and the bottomless tostada chips, which took very long to arrive. It was past seven p.m. and the two haven't arrived yet. And since the service was getting real slow, I suggested to Boq that we take our orders for the main course and thought that either Randy or Raquel wouldn't mind. (True enough they didn't mind at all.)
As I mentioned, I wasn't able to take much pleasure on the feast the last time we ate at Chili's so we mimic the same selection that Amy made then: beef fajita quesadillas, chicken crispers and our pre-ordered warm crispy tostada chips. We just added in garlic shimp alfredo pasta, as we were also craving for some pasta dish.
The bottomless tostada chips were saltier than the one served in Chili's Dubai Mall, but the house made salsa was as great. The chips were served in a very large serving basket. We were unable to request for a refill as the first serving was more than enough for the four of us.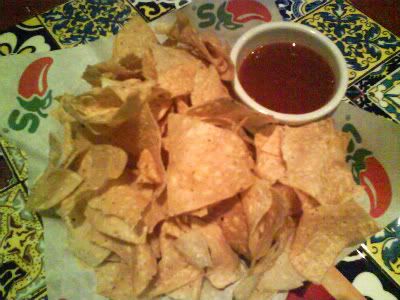 The fajita quesadillas was a plateful of buttery toasted tortillas filled with marinated fajita steak, grilled onions and jack cheese. It is normally being served with rice, black beans, sour cream and pico de gallo (chopped veggies). But, instead of rice we requested to replace it with sweet corn on the cob. For me, the sweet corn was a better choice than the rice as it complemented the sour cream and pico de gallo. The fajita was good. I just wished, similar to tostada chips, they would lessen the salt. Aside from the fajita steak, Chili's other quesadilla choice is grilled chicken.
The chicken crispers were strips of hand battered fried chicken minus the bones and skin, if I'm not mistaken. It can be likened to fried chicken fillet covered with bread crumbs. The crispers were served also with sweet corn on the cob, French fries and honey mustard dip. The honey mustard dip was great for the chicken and a welcome alternative compared to the usual catsup or gravy.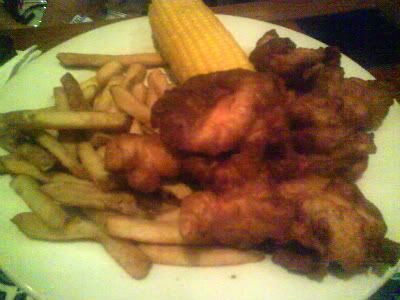 The shrimp alfredo pasta consisted of penne pasta with spicy shrimps seasoned with garlic and lime tossed in creamy alfredo sauce, tomatoes, parmesan cheese and served with garlic toast. I thought the creaminess of this pasta dish was just about right. Not too heavy and not too light. The shrimps were quite tasty. I was happy with our pasta choice.
The Drinks
The usual selection of beverage from fruit juices, shakes, soft drinks, bottled water and iced tea were available. We all opted for bottomless iced lemon tea. Chili's is one of those restaurants that served tea on ice and lemon without sugar, then you will be given a separate container with sugar syrup to sweeten your iced tea as you like.
I'd say that we all had an enjoyable evening, especially when Randy's cool (and really expensive!) digital camera started rolling.
Disclaimer: I am not endorsing Chili's. I am simply blogging my eating out experience.