We had a very filling dinner at Figaro's Pizza in Marina Mall on Friday evening courtesy of our friend Cliff, who, as I mentioned in my
previous post
, was here in Abu Dhabi for a three-week work assignment. He is about to leave in a few days and so he took the chance last weekend to offer us a dinner treat, which Boq and I happily obliged. Some friends were supposed to be with us but were not able to make it, the result; I had a date with two gentlemen!
The Restaurant
First of all, Figaro's Pizza is not at all related to Figaro, a famous coffee shop in the Philippines. One of the staff who happened to be a
kabayan
confirmed this when my curiosity got into me.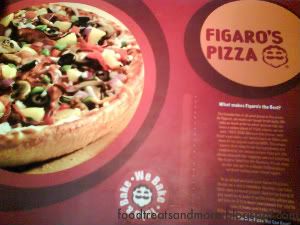 Figaro's Pizza
The restaurant is located at the second level in Marina Mall, Abu Dhabi. It is rather small but with chic furniture and lighting fixtures. There were not too many service crews but most were very attentive. The service was also fast. We did not have to wait very long for the food to arrive considering that there are quite a number of guests that evening.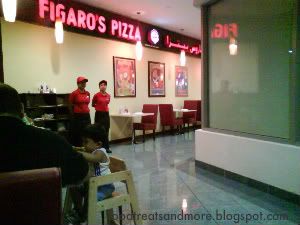 Figaro's Pizza House
The Food
Figaro's Pizza serves authentic Italian pizzas and pasta dishes. They have a large selection of pizza in the menu. You will be made to choose which crust you fancy from thin, medium and thick.
For appetizer, we ordered hot chicken wings and mixed salad bar, while for main course, it is seafood supreme pizza and lasagna.
Boq and Cliff rushed to the salad bar right after our order was taken by a friendly service crew. They did a decent job on filling up a small plate with enough salad for the three of us. The plate was slightly bigger than a saucer, and if you are an expert in piling up salad mix onto such a plate size, it is more than enough for a single large order.
Mixed Salad
The Figaro's Pizza Salad Bar contains the usual items you can find in a salad bar, potato salad, corn kernel, macaroni salad, croutons, mixed steamed vegetables and some fresh produce, also with choices of the usual dressings. For our mixed salad, the guys favored for French dressing. As always, I do enjoy mixed salad and I definitely took pleasure in this one.
The hot chicken wings are super spicy indeed. I was not able to enjoy it because the spiciness overpowered the taste of the chicken. But with only eight chicken wing pieces per large serving the plateful dish was emptied.
Hot Chicken Wings
As for the lasagna, I did not like it at all. I took just a small fraction and yet had the hard time to finish it off. It is too sour. If I have to eat at Figaro's Pizza again, I will skip lasagna. Can't blame me, I tasted much better.
Lasagna
Unlike the lasagna, I did enjoy the seafood supreme pizza. When the pizza arrived I was amused by its size. Really sooo big for us three I thought, about 16 inches in diameter. We ordered the large size medium crust pizza with eight equal slices.
As expected for a seafood pizza, it contained shrimps, squid and crab sticks combined with chopped onion, green and red bell peppers. It had no sign of tomatoes for the pizza topping base, instead, aside from the mozzarella cheese, some other white sauce-like was used for the topping base. We were only able to consume 3 slices and took home the rest. Not that it's not delicious, it was just really too much for us three.
Seafood Supreme Pizza
The Drinks
A few selection of beverage in the menu include soft drinks, water, fruit juices and if I remember it right, fruit shakes. I didn't bother to look much on the beverage selection so I couldn't tell what type of fruit juices and shakes were available as I don't particularly like ordering juices when I'm in a pizza house, it's either soft drinks or iced tea for me. But since they don't serve iced tea, I'd settled for Pepsi diet. Boq and Cliff followed suit with their choices.
The restaurant does not also serve bottomless drinks, but the soft drink is served in a big glass mug, which is just about the enough size (for my small stomach) already.
Although I did have a little issue about the lasagna and the absence of iced tea in the beverage list, I consider Figaro's Pizza as a good alternative for a pizza house (at least for the pizza).
Disclaimer: I am not endorsing Figaro's Pizza. I am simply blogging my eating out experience.