As summer heats up in Abu Dhabi, Boq and I are taking advantage of the abundance of fruits that are in season. Fortunately, a lot of them are my favorites even back in the Philippines.
Here are the top five fruits in season that we mostly buy from the supermarkets these days, ranked from my most favorite to the least.
1) Ripe Mangoes
I will never outgrow my love for mangoes. It's my most favorite! Mangoes from Thailand and Philippines are being exported here but in their unripe condition. Since I like ripe mangoes over green I am settling for those that came from Pakistan. They are usually big and round. They're sweet too although a little too fibrous. They also tend to have a strong taste when overripe or bruised, but they make a good after meal desert or snack when in good quality.
2) Lanzones
Next in my list is lanzones. I like lanzones because it's soft and fun to eat. Peeling the skin needs a technique so that its sap won't come in contact with the flesh. The sap is too bitter so you want to avoid it from touching the skin. I cannot explain though what is the technique, all I know is that I'm good at peeling lanzones (lolz!). Also, make sure that you don't bite the seed of the lanzones fruit because it is as bitter as the sap.
Lanzones in the Philippines have two kinds (in my opinion), one kind is acidic in taste and the other is sweet. But any of the two would do for me.
The lanzones that are available here in Abu Dhabi are coming from Thailand, which are mostly sweet. They are a little expensive though. A kilo is at around 20 dirhams or $5.50, that is more or less 260 in philippine peso.
3) Watermelon
Watermelon comes third in my top five list of seasonal fruits. As the summer peaks in Abu Dhabi, it is very refreshing to eat watermelon. A watermelon shake or juice will be great but eating the watermelon slices is just as great.
The watermelon sold here are very large in size. Fortunately, supermarkets sell them in halves or quarter sizes.
4) Atis
Fourth in my list is Atis or sugar apple in English. Atis are very sweet when it's in its full ripeness. The only thing that I don't like about atis is that it is full of seeds, but I know that there is a variety with less seed and there's even a seedless atis from what I heard but I have not encountered one as of yet. I would definitely enjoy a seedless atis!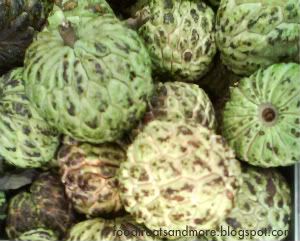 5) Pineapple
I like pineapple because it is a good source of vitamins and minerals namely manganese, thiamin, vitamin C and D. It is also rich in fiber and even has antioxidant property.
There are canned pineapples of various brands that are being sold in the supermarkets but I prefer to use them for making fruit salad than eating them fresh from the can. Luckily, there are fresh pineapple fruits available in the supermarkets. In fact, one particular brand in the Philippines (Del Monte) is being sold here.