Today is my special day and I wanted a simple dinner of my favorite cuisine, i.e. Asian.
After hearing mass, Boq and I proceeded to The Noodle House in Al Wahda Mall, as it is the nearest and most convenient place to go from the church. Besides, our initial try of the resto was pleasant so it will be nice to pay them a visit again.
The Restaurant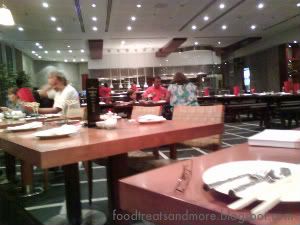 I like the restaurant's atmosphere and interior. It is informal and spacious yet stylish. They designed the restaurant into two levels. The area at the entrance is on the same level with the ground level and the other is on a raised floor where the kitchen is also located. Majority of the table and seat arrangement are wooden and upholstered benches but there is a portion in the raised floor level where they arranged square tables for four with two chairs at one side and a long continuous couch at the other side set against the wall.

Prawn Wanton Noodles
I cannot tell if the Al Wahda Mall branch is a typical design for The Noodle House because I've never been to any other Noodle House branch. What I can tell is that I've seen a couple of branches that doesn't look as stylish as the Al Wahda Mall branch from the outside. Of course, I may be wrong as I'm only judging them based on their outside appearance.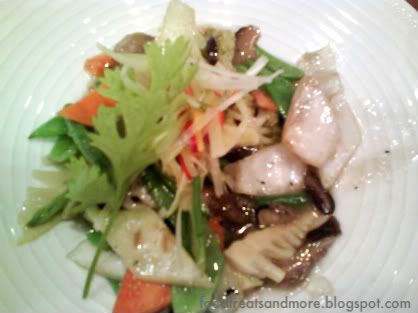 Stir Fry Vegetables
The Food
I'd be honest, I did not enjoy the food compared to our first visit there. We ordered prawn wanton noodle soup with roasted duck, stir-fried mixed vegetables, spicy lemongrass crab cakes and egg fried rice. The only dish that gave me the satisfaction was the noodle soup. The crab cake was not at all spicy as the menu suggested. It was crunchy outside and soft in the inside, just the perfect texture, but I was not really drawn to it. I've tasted better. The fried rice was bland for my taste. And I found the stir-fry veggies with an off-smelling ingredient. I don't know exactly what contributed the smell but Boq said it was the mushroom, which was sad if it really was because mushroom is my favorite. I just remember now, I encountered the same smell in a stir-fry vegetable dish we ordered in one of our dinners in another Asian restaurant. I'm guessing that it's a normal thing for authentic Asian cuisine, unfortunately, I couldn't get used to it. Don't get me wrong though. If I did not enjoy the food, Boq did have a good time. He is not as picky as I am. Yes that's maybe it, I'm just too picky and I have a very high standard when it comes to Asian food. I lived in Thailand and Taiwan before where I tasted the most authentic Chinese and Thai dishes.

Spicy Lemongrass Crab Cakes
One thing though that I can recommend in The Noodle House menu, is their pad thai (or stir-fried noodles). We tried it during our first visit and made a couple of take-out orders on separate occasions. It's not in my number one list but it's one of the best.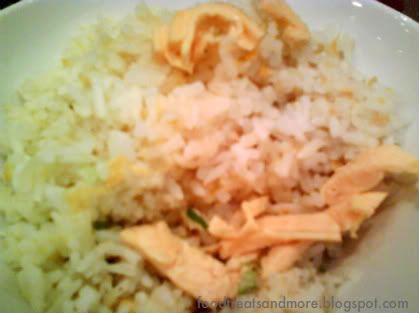 Egg Fried Rice
On the whole, it was fun to dine in at The Noodle House because the service was good and the atmosphere was pleasant. They even have a different style of taking orders. Guests are given individually an order sheet (they call it order pad) where you will tick or check your orders using a pen with a nice curly detail at its end. It was even more fun if we just ordered the right food that's pleasing for my taste. But I have no regrets. I may have not enjoyed most of what we ordered but I did enjoy the noodles and using the chopsticks. Moreover, Boq enjoyed his food and I had fun taking photos. The whole experience was all that matters to me.

Order Pad
Disclaimer: I am not endorsing The Noodle House. I am simply blogging my eating out experience.
Cheers!