Want to try something different for your fish craving? Why not make fish spring roll. It's healthy and great for light snack or party meal.
This spring roll recipe is quite different than usual. My friend and a former officemate, Gemma, introduced to me this dish, which she fondly calls fish shanghai. Shanghai spring roll is widely known in the Philippines as lumpiang shanghai, which is usually prepared with pork or beef. I first tasted fish shanghai during her birthday celebration in 2008, and I got hooked to it since. Fish spring roll is simply delicious and far healthier than its beef or pork counterpart.
Here's the recipe for fish spring roll.
Ingredients
:
1 kilogram fresh mackerel fish, thoroughly cleaned (or any fresh fish of your choice)
2 pieces medium size carrot, grated or finely chopped
2 pieces medium size onion, (one is grated or finely chopped, the other piece is simply sliced)
1 large stalk celery, grated or finely chopped
1 large egg
Ginger
Vinegar
Water
Salt
Ground black pepper
Pastry wrapper (about 60 pcs)
Instructions
:
Boil the mackerel fish in a deep skillet together with ginger, sliced onion, vinegar, salt, ground pepper and water. While cooking the fish, start grating carrots, onion and celery for the spring roll mixture. When the fish is done, separate its meat from its bones, shred and mix with the grated ingredients. Add egg, and then season with salt and black pepper. Wrap a teaspoon size of the mixture using the pastry wrapper. Fry in a low fire until golden brown.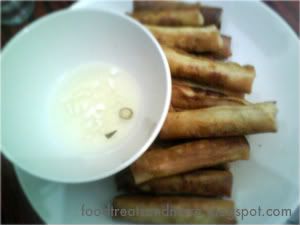 Dip fish spring roll with your favorite sauce (ketchup, sweet chili sauce or vinegar).
Preparation and cooking time: 60 minutes
Serving size: 6-8
Bon appétit!